Large event
| 16 Sep, 2023
IUCN @ UN General Assembly High-Level Week
From 16 to 22 September, IUCN participated in the UN General Assembly High-Level Week in New York.
Photo: David O'Connor
The UN General Assembly's (UNGA) 78th session comes at a critical time for the 2030 Agenda, as it marks the halfway point to the deadline set for achieving the Sustainable Development Goals (SDGs). In addition to the opening of the General Debate, where Heads of State and Government present their annual addresses to the UNGA and the world, in 2023, High-Level Week featured a series of Summits, Dialogues, and high-level Meetings, including:
SDG Summit (18-19 September) – the Summit meets every four years at the level of Heads of State and Government under the auspices of the General Assembly, to take stock of progress towards the SDGs and accelerate action to achieve them by 2030. It featured several Leaders' Dialogues, and adopted a political declaration. It was the centrepiece of High-Level Week, and was preceded by an SDG Action Weekend.
Climate Ambition Summit (20 September) – convened by the Secretary-General, the Summit focused on accelerating action and hearing from first movers and doers, to demonstrate that there is collective will to do more, and build momentum ahead of UNFCCC COP28.
High-Level Dialogue on Financing for Development (20 September) – the Dialogue is mandated to accompany the SDG Summit every four years, to look at aligning and mobilising resources to finance the 2030 Agenda.
Preparatory Ministerial Meeting for the Summit of the Future (21 September) – this Meeting provided Member States and others an opportunity to set out their vision, priorities, and expectations for the Summit of the Future in 2024. The Summit offers a chance to speed up SDG implementation, enhance global cooperation, and address gaps in global governance. The Acting Director General delivered a statement on behalf of IUCN, available to stream here:
Anchored by the SDG Summit, as well as the annual Patrons of Nature meeting, IUCN sent a high-level delegation to New York, including the President and Acting Director General. IUCN sponsored, co-sponsored, and participated in a series of events during High-Level Week, both as part of the official programme and on the margins, including those affiliated with the SDG Action Weekend and Climate Week NYC.
IUCN's resources and other information below, including its position paper for UNFCCC COP28, highlight how our Nature 2030 Programme supports the 2030 Agenda, and how this week is key milestone on the path to increasing climate ambition.
IUCN publications and other resources
We have reached the midpoint of the implementation of the 2030 Agenda for Sustainable Development and, taking stock of the progress achieved so far, it is sobering to realise that we are deeply off…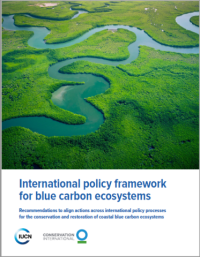 Coastal blue carbon ecosystems, including mangroves, seagrasses and tidal marshes, are some of the most carbon-rich ecosystems on Earth, and are vital to mitigating the impacts of climate change…
While there is an urgent need to act across all parts of society, sports have a unique opportunity to address the nature crisis. IUCN has been working with key partners on developing a Sports for…
Climate change is here, and the impacts we are already being seen around the world, from higher temperatures, rising sea levels, more frequent and intense droughts, floods, and wildfires, and…
UNFCCC COP28 Position Paper
The synthesis report of the Sixth Assessment Report of the Intergovernmental Panel on Climate Change (IPCC AR6), released in March this year, has brought into sharp focus the irreversible losses and…
La synthèse du sixième rapport d'évaluation du Groupe d'experts intergouvernemental sur l'évolution du climat (IPCC AR6), publié en mars de cette année, a mis en évidence les pertes et dommages…
La síntesis del Sexto Informe de Evaluación del Grupo Intergubernamental de Expertos sobre el Cambio Climático (IPCC AR6), publicado en marzo de este año, ha puesto de relieve las pérdidas y daños…
IUCN events at High-Level Week
IUCN is hosting and participating in a number of side events and activities during UN General Assembly High-Level Week. See details on key events below.
IUCN event
UNHQ, New York, Conference Room 4
|
18 September , 18:00-20:00 EDT (UTC-4)
Hosts:
Ocean Race, UNDP, Cabo Verde, IUCN, Earth Law Center
Building on the High Seas Treaty, this event, taking place on the margins of the UN General Assembly High-Level Week, is the final leg of a process that has gathered over 150 experts, policymakers…
Learn more